Freemasonry is truly one of the world's oldest organisations dating back to the early 1700s. It's both non-religious and non-political with the primary aim to support charitable and other deserving causes throughout the world, the UK and closer to home within our own local communities.
Whilst both religious and political discussion is not permitted at Masonic meetings; membership is open to men aged 21 years or more of any race or religion, who have a belief in a Supreme Being, it is also expected that they continue to follow their own faith.
Freemasonry can and does mean very different things to each individual member. Whilst its values are based on integrity, kindness, honesty and fairness our members enjoy making new friends and acquaintances; working together in support of charity and local community projects; for many members the opportunity to meet, work and socialise with people from all walks of life, regardless of race, religion or position in society presents the greatest attraction.
Our members learn the principles of Freemasonry through a series of ritual dramas – an allegorical progression of two-part plays learnt by heart and performed (re-enacted) in all Lodges, being guided by the use of ancient forms and employing traditional stonemasons customs and tools.
You will find Freemasonry teaches its members to show care and compassion for those amongst us who are less fortunate and in the greatest need of our help and support, however we remind our members that the interests of their own families must at all times be their first priority.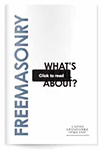 Please click on the booklet (right) to find out more about Freemasonry – you can turn the pages by moving your cursor to the left or right edges and clicking on the arrow that appears. You can also download a PDF of it to print and read at your leisure.
Welcome to Freemasonry

Nigel Brown, Grand Secretary, answers many of the questions
asked of Masons, and addresses common misconceptions.
Why I joined Freemasonry